The Beatles - Now and Then (2023)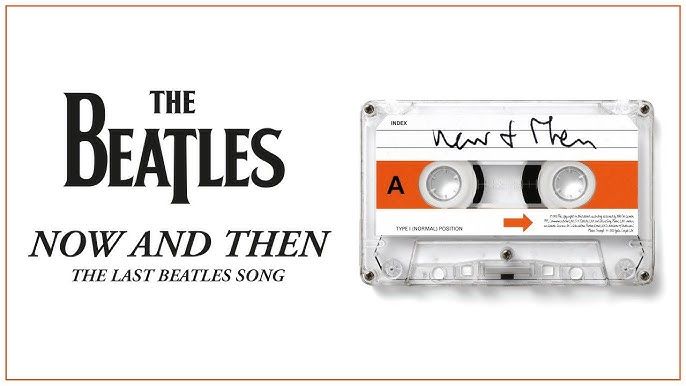 A couple days ago, The Beatles released a new and probably last song. I know that's kinda weird, seeing as two of the fab four have been dead for almost 25 years. But here we are. So I want to break down some of my thoughts on it, and it's a bit complicated, mainly because there are three separate parts to this new song.
My history of The Beatles is long and storied and I feel I captured most of it in my earlier 2021 review of Get Back. The Beatles hold a very special place in my life, as that band in particular has always been a great connection point between my dad and I. I remember fondly hearing my dad talk and even give me a recording of the 1995 Beatles Anthology that was just released. I was only 10 at the time, but I ended up learning and hearing many Beatles songs by that release, and hearing outtakes became my first introduction to some of their songs.
So here we are in 2023, and we have a "new" Beatles song. How is this possible? Well, back in 1994, while working on the Anthology release, the remaining three Beatles, Paul, George and RIngo, along with Jeff Lynne from ELO ended up with a demo tape that John made before he passed away. They decided that it would be a good idea to try and finish up their friend's song for him as a nice present of friendship. However, because of the recording and the technology available at the time, it just didn't sound quite right and it was hard to really be happy with the outcome, so they shelved it.
After George passed away in 2001, the song was shelved indefinitely. Until Peter Jackson came along to work on the Get Back project. Since technology improved enough to pull John's voice out, and separate it from the overbearing piano and the static magnetic recording, it was the perfect time to try and revive the project one last time. And that's what they did. So here is what I think about all three parts of the Now and Then Project.
Part 1: The Song
I have only listened to it once, that's all I need right now. Because it's beautiful. I think the lyrics are poignant and the instrumentation and clarity of everything seems spot on. It does feel like a Beatles song, it feels like a passion project from the start, as these men were all friends, and have achieved something very few other people have ever done. It's not new to have some old demos pulled out and dusted off after a musician is dead and be finalized with what we hope is the deceased wishes or at the very least their blessing. It's been done by Prince's estate, and Michale Jackson, heck, even Tupac has released more albums after he died than when he was alive. So this is nothing new.
The song itself, like I said, is just absolutely beautiful and already is stuck in my head. The simple piano and John's voice blends so well into all the other parts of the song, George's slide guitar solo also sounds very in tune with the rest of the song and even the symphonic stringed melody just meshes together to create what I hope truly is "The last Beatles song" because I think it's just about perfect.
Part 2: The Short Film
There is an accompanying "Short Film", which is more of a 12 minute making of video more than a film or documentary, but these things always have a way of ballooning out or even just because of the industry, they need to have full blown credits and such. It tells the story of how the song came to be, with the help of voiced narration by Paul, Ringo, Sean (John's son) and Peter Jackson. It actually acknowledges the issue of "is this ethically ok" and Pual addresses it personally, and he says that he believes John would be wanting them to finish the song he started, and hopefully intended as a Beatles song for him. And not only do I believe that's true, I think that's where the issue ends. These guys have a special bond, and they are acting as a conduit for their old friends. John and George both would have wanted them to finish it, and they have the right to do it. And that's good enough for me.
It's also interesting that they even bring in Giles Martin, who is the son of famous Fifth Beatle Geogre Martin, to conduct the strings section on the song. And along with that, showing how the song has spanned multiple decades and help from so many people, like Jeff Lynne and Peter Jackson to get this thing made. It's so nice having Paul talk about even paying tribute to George Harrison by working on the slide guitar solo, and making it feel special for their companion who is no longer with them to finish the thing they started without John, back in 1994. It's just another incredible documentation of these friends spanning so many years to create something very special. It's not just worth a watch, it should be mandatory viewing after the song is over.
Part 3: The Music Video
This is probably the one that I might have a slight issue with, more for the fact it seems to be using some technology that is still in its infancy and if it wasn't done right, or with the right intentions, it might come off crass or disrespectful. So the music video splices and overlays lots of various Beatles footage with each other and also has some AI and "deep fake" technology applied to it.
Off the bat, it doesn't seem bad at all, it even feels like a really interesting way to have these four friends interact with each other a bit and just seem like they are all sharing the same space again. I think the only issue I have is that there are a few shows with John and George superimposed with modern day Paul and Ringo. George is in his Sgt. Pepper's outfit and John is in his white blazer… but John is bouncing off the walls a bit too much and being overly goofy in a way that just seems odd. I don't believe it's an actor playing John, and I don't know if it's AI generated, as I can usually still tell that sort of stuff pretty easily. This might just be chroma-keyed out old footage (I'm just not familiar enough with it to tell for sure). But it just doesn't fit the overall tone of the song and moments.
Besides that, like I said, seeing the four together in the same screen space is special, and if the others in the project (along with the deceased's family being ok with it) then I am ok with it too. Nostalgia is a slippery slope, and leaning too heavily on the "old days" feeling can make these projects feel like people can't move on. I don't believe that's what's going on here at all. I believe it's Paul and Geroge and Ringo initially wanting to do something cool and make a final Beatles song back in the mid 90's. Once George passed away, it just didn't seem like it would ever get finished, but thanks to modern advancements in technology, the tech could help create the perfect environment to get the remaining Beatles together one last time to make a great song. The music video knows this and really does a great job of chronicling their lives together as a band and blends well to make this song special.
So that's my thoughts on the last Beatles song, Now and Then. Like I said, it's hauntingly beautiful and I know it will mean something to anyone who has lost a loved one and misses them dearly. It conveys a human emotion so perfectly and I am just very happy it exists. Any Beatles fan needs to listen to it, watch the short film, and see the music video. I hope they end it here, because it's the perfect note to go out on, and leave the audience wanting more.